GALACTIC WARS EXTENDED
A downloadable game for Windows
Prepare yourself for the final 16Bit arcade Space Battle!
Galactic Wars Extended was fully funded last April on Kickstarter! The game is currently in development and it will be ready for release during November 2020.
If you missed the kickstarter campaign, you still can get your copy. Pre-order it here on itch.io!


THE NEW GAME
This is an extended premium version of the original game Galactic Wars for Pico8!
A new arcade experience for retrogaming shmups and bullet hell lovers that can be played on PC, renewing its aesthetics, music and gameplay in order to take it further and create its definitive 16bit version for two players!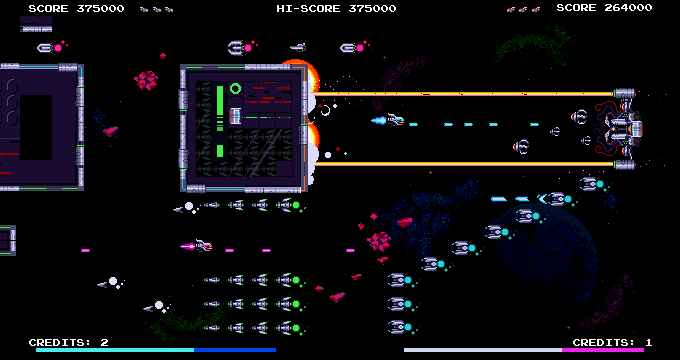 A new Extended arcade version with 16bit look & feel and a brand new co-op mode for 2 players, new more enemies, weapons, game mechanics, power ups and much more!
1 or 2 Players Co-op Pixel perfect action

Look and feel of an Arcade game from the early 90s

Thirty new phases to fight the invaders in three new areas

New bosses and more than 10 new enemies

New weapons & power ups
Improved energy and ship's upgrades system

Pixel perfect action even on Full HD & 4k displays

Original Chip-tune ingame music by BeykerSoft
This new game will be a reallity late this year, Pre-order your copy now!
THE ORIGINAL SOUNDTRACK

Galactic Wars Ex OST is being composed by BeykerSoft using the awesome Sega Megadrive's Yamaha YM2612 FM sound chip. To achieve a pure arcade feeling!
EXCLUSIVE ART BY MR. DANI DIEZ
We're thrilled to announce Mr. Dani Diez is now creating an art piece for Galactic Wars! The collector's edition of the game includes a limited edition print of this awesome WIP illustration.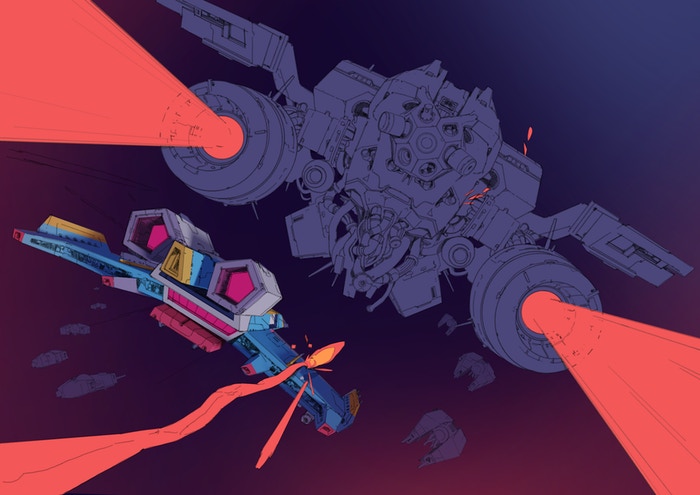 *EARLY MOCKUPS (Final art will be created during July 2020)

PHYSICAL COLLECTOR'S EDITION AVAILABLE!
If you are a physical edition's lover, you are still in time to get a collector's physical edition with music from BeykerSoft and art by MR. Dani Diez Last units available!
Send email to: volcanobytes@gmail.com and we'll get back to you with details asap.
Follow to stay updated about the project's development!
You can reach us on the social networks too:

https://twitter.com/VolcanoBytes

https://www.instagram.com/volcanobytes/

https://www.facebook.com/volcanobytes

Purchase
In order to download this game you must purchase it at or above the minimum price of 19.99€ EUR. You will get access to the following files when they are released:
PREORDER GALACTIC WARS EX
PREORDER GALACTIC WARS EX + EXCLUSIVE SOUNDTRACK (OST)
if you pay 25.00€ EUR or more
PREORDER GALACTIC WARS EX + OST + EXCLUSIVE ART BY DANI DIEZ
if you pay 30.00€ EUR or more
Comments
Log in with itch.io to leave a comment.
I always come back to this game, so addictive :)
Awesome! THANKS!

Have you managed to defeat the final boss? ;)
Not yet , but with just a bit more practice....
Good job ! is there a way to export a Linux version ? I would be more than happy to pre-order it.
Have a good day !
Thank you! I'm glad you like it!
Unfortunately the Linux version was presented during the campaign as a stretch goal but it was not reached.
At the moment there will only be a PC version, but I do not rule out that it can be ported in the future ;)
Thanks VolcanoBytes,

I'm following your project very closely then.
Really glad to see this getting fully funded and I'm excited to see how the finished game turns out. The Pico-8 original was really fun and this new EX version is looking even better!
Thanks for your kind comment! We are working hard to develop a great game, please stay tuned, the devlog will be updated often from next week ;)